Dental Trauma in Midtown East, Manhattan, NY
While no one wants to face a dental trauma, it's something that happens to countless children and adults every year. From car accidents to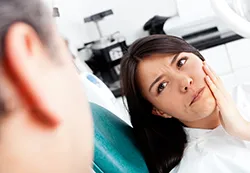 falls to sports injuries, there are many situations that can lead to dental trauma. Isn't it important that you have an emergency dentist you can turn to for care and comfort during these moments of stress? The sooner you turn to Emergency Dental Center, your emergency dentists in Midtown East, Manhattan, the sooner you get the care you deserve!
From a knocked-out tooth to a bitten tongue, there are a variety of different dental traumas that can occur without warning and often when you least expect it. Our dedicated emergency dentists in New York City can treat your emergency situation and possibly save the damaged tooth. It's important to seek care quickly when experiencing a dental emergency.


Common Dental Emergencies
Common traumatic dental injuries range from chips and breaks in a tooth to a dislodged or completely knocked-out tooth. Fortunately, our Midtown East Manhattan, NY emergency dental clinic has the technology, knowledge and skills necessary to address all of your traumatic injuries and to preserve your oral health. In most cases, endodontic treatment will be necessary in order to improve the health of the damaged tooth.
A root canal will be recommended if the injury has affected or damaged the nerve of the tooth in any way. In most cases, if you are experiencing dental pain this is due to a damaged nerve inside the tooth. In order to stop the pain, we will need to remove the nerve.


Seeking Care At Emergency Dental Center
We always encourage our patients to contact us first in an emergency situation. Hospital emergency rooms are usually not well equipped for tooth emergencies. In most cases, it saves you time and money to call your emergency dentist in Manhattan, NY first.
Some of the dental emergencies we handle here at Emergency Dental Center are:
-Abscess
-Loose or knocked out tooth (place under tongue and seek help within the hour)
-Deep cuts to the gums, tongue, lips, and cheeks
-Cracked or broken teeth
-Dental infections
-Lost or broken dental restorations, such as fillings or crowns
If you are not sure whether your condition is a real emergency, call us anyway! We are happy to provide guidance over the phone and determine if you need immediate attention.


Don't Wait To Receive Emergency Dental Treatment
If you ignore the pain and don't get the treatment you need, then the damage could continue to spread, leaving the tooth irreparable and even affecting the health of your jawbone. By seeking treatment as soon as you have a dental emergency, you'll make sure your tooth gets the proper care it deserves.
In many cases, getting endodontic treatment can actually save patients from needing a tooth extraction in the future. Preserving your natural teeth is the best thing you can do for your oral health, and by turning to our urgent care dentists for the proper, individualized care you need to handle your dental trauma you will protect your beautiful smile for many years to come.


Are you experiencing a dental trauma or emergency? Call Emergency Dental Center in the Midtown East, Manhattan, NY area now at (646) 992-0930 to find immediate relief!